Weather forecast with the help of your garden illumination
We all know the following situation: You invite your loved ones to a barbecue. You are all sitting toghether in the garden and are about to start the grill or to eat. And then, suddenly, it starts to rain – a summer storm is coming up. You need to hurry up, put everything together, move indoor and the outdoor barbecue session is over.
Of course, you got a weather app on your smartphone, but checking your smartphone every 20 minutes is not as smart and polite as you would like to be when sitting together with your family and friends. Please do not worry – we are here to offer you a perfect solution to avoid this scenario.
More than a cozy atmosphere
Your Smart Home can not control the weather, but your garden illumination can inform you about changes in weather, upcoming thunderstorms and rain.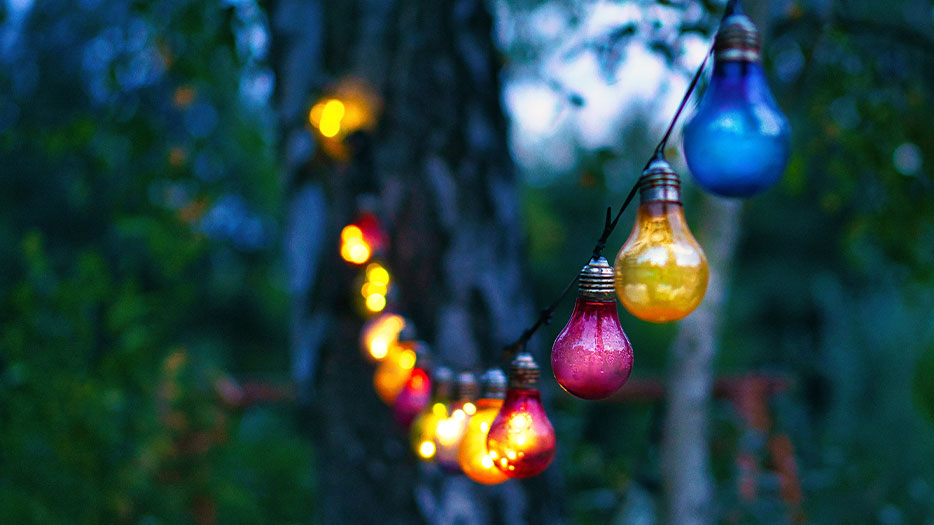 LED bulbs or LED Stripes do not only bring cozy atmosphere, they can also inform you about open windows or upcoming changes in weather. By choosing the Smart Home standard Z-Wave you can easily turn your E27 lamp cap to a smart one by using the Philio Dimmer Sockel. As an alternative you can also choose the Fibaro RBGW Controller 2 or the Qubino Flush RGBW Dimmer.
Please note: RGBW insert modules are IP20 approved and only for indoor use. To use them outdoor make sure you use an IP44 installation box.
Bulbs, e.g. the Shelly Vintage A60 or the Shelly Duo GU10 are also IP20 approved, but once you have installed them in a closed garden lamp they can be used outdoor as well as they are covered from weather.
Smart garden illumination with homee
Neither a bulb nor a RGBW insert can provide you a weather forecast by itself, but when combining it with a Smart Home Hub, e.g. Aeotec Smart Home Hub, Homee or Fibaro Home Center 3 Lite you will get a perfect match.
To make your bulbs illuminate depending on the weather forecast, you will need to create a little scene. With this tutorial we would like to show you how it could be done with homee.
As a first step please open the homee app or the webpage on your browser. Then click to "automation" and create a new Homeegramm.
As "IF" you can now choose between the weather forecast for tomorrow, the day after tomorrow or the next three days. For our scenario we choose the current weather.
Afterwards you choose the weather situation: sunny, bright, rain, snow, wind etc.
For our scenario we choose "rain" as condition.
With "THEN" you can configure the "colour" of your RGBW lamp and select your favorite one.
Some colours are already pre-configured, but it is up to you to choose one of thousand possible colours. We select blue for rain.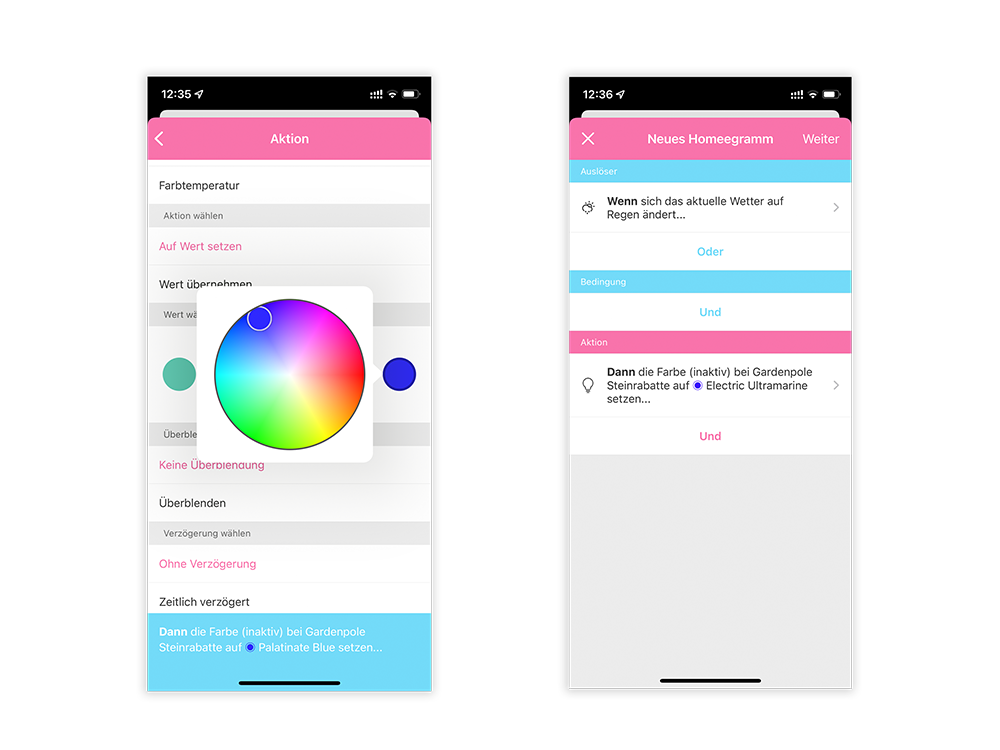 Once there is new weather data available the Homeegramm gets started. Homee will "read" the scene top down and is checking wether the respective conditions are met or not. In the mentioned use case the condition is "weather = rain". If this condition is given your lamps will flash in blue.
If you do not want to be informed by flashing lights in the night, please add and "AND" condition.
Being informed of an upcoming storm is not only important for planned outdoor activities in your garden, but also for open windows. The scene is identical with the upper mentioned, you only need to switch the condition to "storm". With "AND" you can add another Door Window sensor.
Hint: If you would like to add more than one Door window sensor, use "group".
You see, together with your Smart Home Hub your LED bulbs and stripes are able to give you a visual feedback. With the upper mentioned scenarios your next barbecue hopefully is not rained off.
Do you have any further questions? We are happy to help you.