Samsung SmartThings in Germany – under the brand Aeotec since 2020.
In the past, the Samsung SmartThings Hub was only available in Germany as a subscription from Vodafone. Since November 2020, this fact has changed, because we as Z-Wave Europe are cooperating with the Samsung Electronics subsidiary SmartThings under the brand Aeotec. The open platform combines devices, developers and services to create one of the largest ecosystems in the Smart Home. This makes it possible for native SmartThings applications to be found on a wide range of Samsung TVs, kitchen appliances and other networkable products. The more than 10 million installations worldwide speak for themselves. 62 million active users currently trust the services and capabilities of over 5,000 interoperable devices.
Works with SmartThings Hub
Connect your devices with the world's largest Smart Home eco system. Look for "Works with SmartThings" which is the certification program for manufacturers and service providers. The more than 5000 certified products are connected to the SmartThings platform. With that you can control everything from one app. We as Z-Wave Europe GmbH offer you an exclusive selection of SmartThings compatible products.
Works as a SmartThings Hub
Your Smart Home needs a brain. With the Aeotec Smart Home Hub you can connect Z-Wave, Zigbee or Wi-Fi devices, which are Works with SmartThings certified. All these devices are connected directly to the Hub and can be controlled and managed dead easy.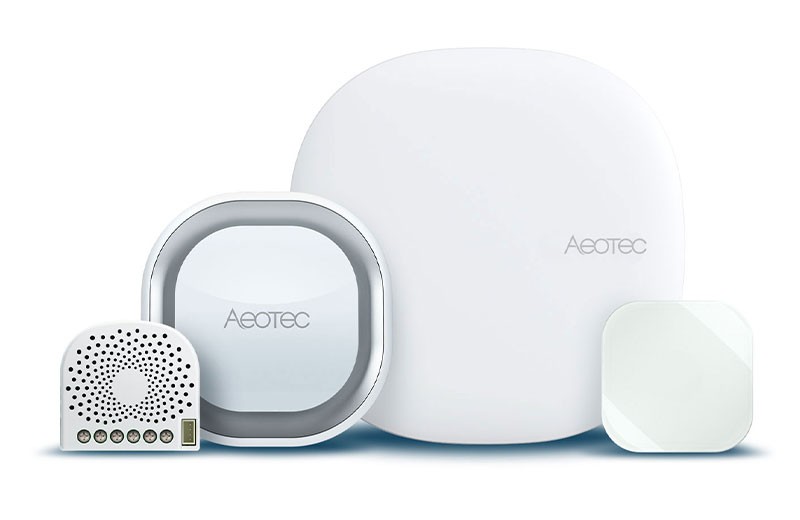 Aeotec Works with SmartThings
Explore the endless possibilities of the Aeotec Works with SmartThings portfolio. Connect sensors with actuators to switch on lights automatically, when there is movement. Or you receive a push message if someone opens the window unauthorized. Home automation can be experienced on a new level thanks to the compatibility of the Aeotec products with the SmartThings app.
The Aeotec Smart Home Hub is compatible to a wide range of products. 
With the Z-Wave and Zigbee connectivity many products, which are available at Z-Wave Europe Online Shop,
can be connected to the "Works as SmartThings" Aeotec Smart Home Hub.
SmartThings App
With SmartThings App, you can connect and control multiple devices quicker and easier. No matter where you are, you can monitor and control smart devices and home appliances e.g. refrigerator, washer, dryer, oven range, dishwasher, cooktop, robot vacuum, air conditioner, air purifier and other.
Want to find out more about the products that are compatible with your SmartThings app?
Among other things you can connect selected devices like Smart TVs, IP cameras, Google Home or Amazons Alexa with your SmartThings App.
DO YOU HAVE ANY QUESTIONS ABOUT SMARTTHINGS?