How to set up the SmartThings Hub
Since November 2020, our brand Aeotec has been offering the Smart Home Hub from Samsung. To help you get started, we have created this tutorial. Please note: the Hub is suitable for beginners and professionals who want their own developer platform.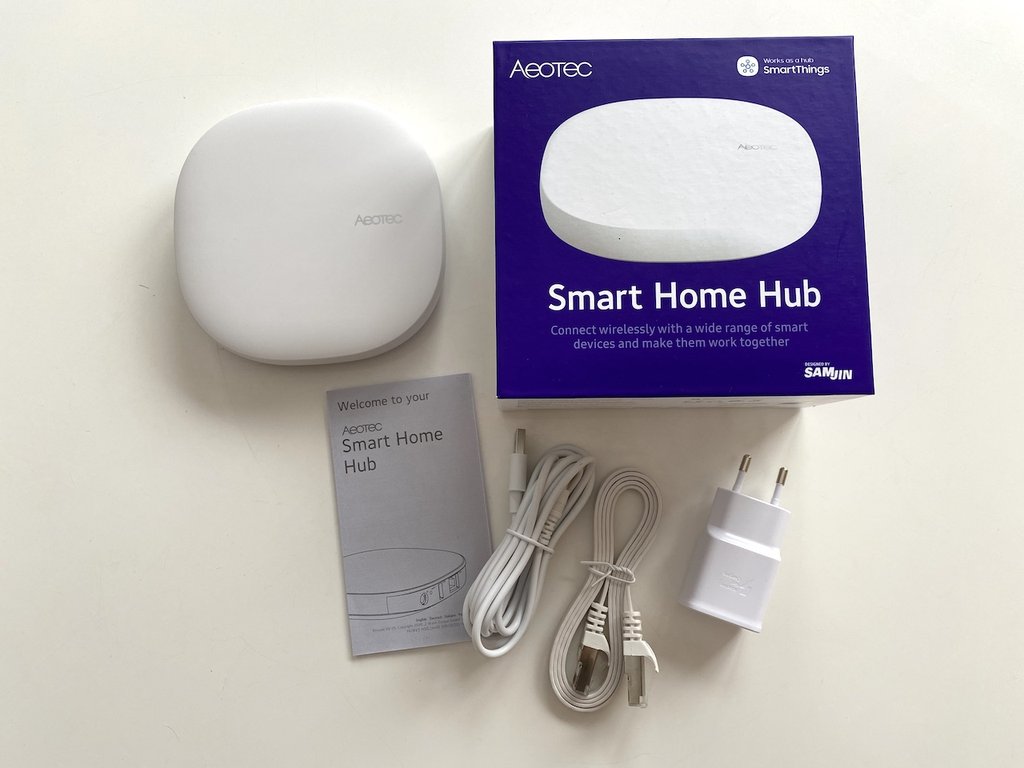 Setting up the SmartThings Hub
First, you need to download the SmartThings app to your smart device (smartphone or tablet). A SmartThings account or Samsung account is required for use. If you already have Samsung devices – such as a smartphone or a Smart TV – you can skip this step, because you probably have a free customer account.
Now you must connect your new SmartThings Hub to your account. The Internet connection of the hub is via LAN or wirelessly via WLAN.
In the last step of the set-up, the hub downloads the latest update.
What the SmartThings app offers
If you already own a Smart TV, a vacuum cleaner or another smart device from Samsung, you will probably know the SmartThings app. The app is also the command and set-up centre for the hub. With its clean and tidy design, it is reminiscent of Apple's HomeKit and makes a very good visual impression. Via the plus symbol, you can add new devices, rooms or users. You can also connect SmartThings with your voice assistant or create rules and scenes. In the following sections, we will explain how this works simply and easily via the functional and intuitive app.
Set up users via the SmartThings App
If you do not live alone in your home, you can invite family members to SmartThings. So they also have access to the Smart Home system. The invitation is possible in two different ways: via an invitation link by email or by generating a QR code. The QR code must be scanned by your family member with the SmartThings app – done.
Set up rooms with SmartThings
Setting up rooms is a practical and important thing to assign and group networked devices. This is done quickly and easily with the SmartThings app. In addition, SmartThings offers you the option of assigning individual background images to your rooms.
Rules, also called automations, are at the heart of every smart home. Because the purpose of a smart and connected home is the automation. SmartThings offers the "If…, then…" rules, which can be used for all kinds of things. For example, switch on the light when the Smart Lock or the presence detection (geofencing) signals that you are coming home. Many different states can be used for the rules, such as the status of devices, the measured humidity and much more. Thanks to "preconditions", conditions can also be combined. Thus, more complex rules are possible – for example, that the light is only switched on between 6 pm and 11 pm.
Scenes can also be created with SmartThings. With them, you can define a sequence of actions or the state of devices. A classic example is the "Good morning" scene, which sets defined lamps in the house to a certain brightness and raises the shutters in the house.
Nothing works without devices
Rules and scenes are a great, but they are useless if they have no devices to control.
The core of every smart home, besides the hub, are the devices to be controlled. SmartThings supports a whole range of sensors and actuators from different manufacturers. This is possible because the hub works with the ZigBee and Z-Wave frequency. More than 1,000 manufacturers use Z-Wave, for example. ZigBee is used by known brands such as Philips Hue and IKEA. Thanks to these two standards, all kinds of devices can be connected to the SmartThings Hub. This saves energy and makes management easier. SmartThings also supports other frequencies from other manufacturers. For example devices, which works via WLAN. However, a separate bridge or hub can also be connected to the SmartThings central unit. Some examples are the security cameras from Arlo, the lights from Lifx, the products from Nest or the popular modules from Shelly. The lights and lamps from Philips Hue can also be integrated into SmartThings – directly and also via the bridge. In this way, other services such as Hue Sync can still be used.
No matter which solution you choose: Please note that this is a cloud-to-cloud connection. This means that if the internet fails, these devices can no longer be controlled via the SmartThing Hub.
Many possibilities with SmartApp
The options explained are the basic functions and are suitable and sufficient for beginners. But if you want to get even more out of SmartThings, you can use the "SmartApps".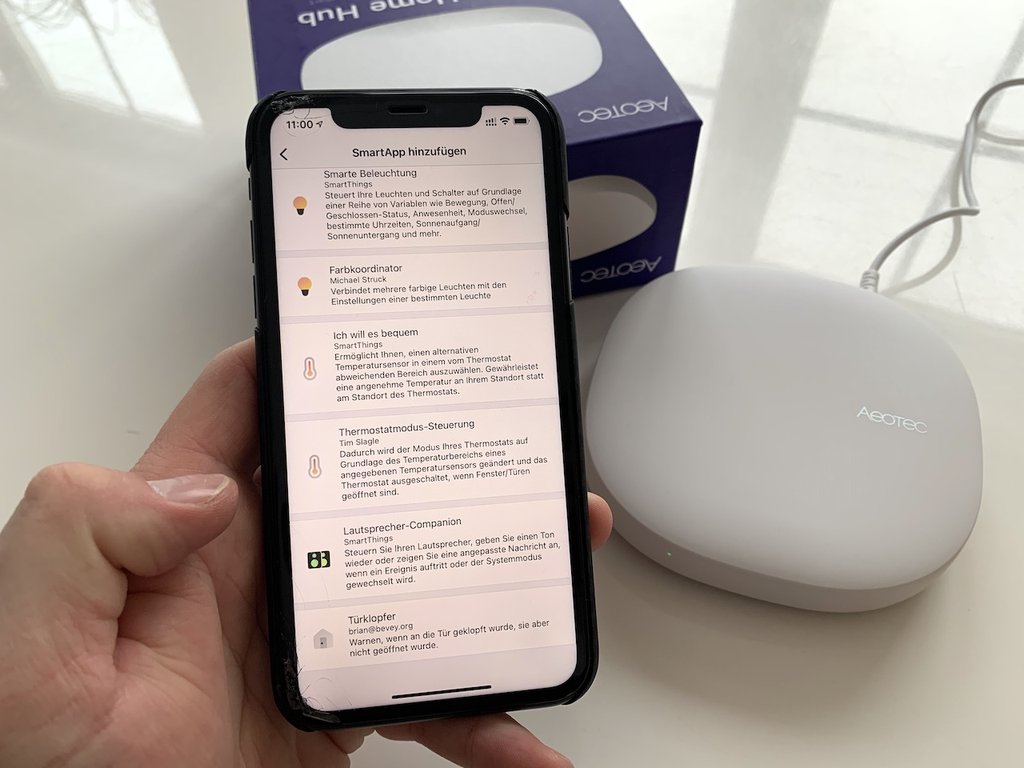 These are aimed at advanced users and hobbyists who want more. Via a web interface you can add new devices and services to the Smart Things. You "only" need to programme the appropriate code for this. A large number of examples and codes are already available on the developer platform "GitHub". You can simply copy and paste them. On this way you can get more possibilities – for example: data for rain, wind and outdoor temperatures of the weather station from netatmo. On this way, many services and products that have not been officially supported can control via your Smart Home system.