Your favourite recipe is successful and everything is set for a great dinner. With a touch of an button, your Smart Home creates the right atmosphere. The electric blinds are shut down, the robot vacuum returns to the charging station and the lighting is dimmed. At the same time, the Philips Hue switches on the lighting and your favourite playlist is played via the soundbar. Everything is perfect – isn't it?
This scenario used:
Samsung Soundbar
Amazon Alexa
Samsung robot vacuum
Ambient lighting e.g. Philips Hue Iris
At some point, a little hunger sets in and the question arises, what should we have for lunch today? To answer this question, you don't have to get up and go to the kitchen. Check the contents of the fridge conveniently via the SmartThings app. When you have found the right ingredients, you can stream the cooking video on the display of the Family Hub with a click.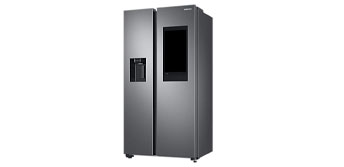 This scenario used:
Smartphone or Tablet
Samsung Family Hub
YOU HAVE QUESTIONS ABOUT THE USE
IN DINING ROOM?